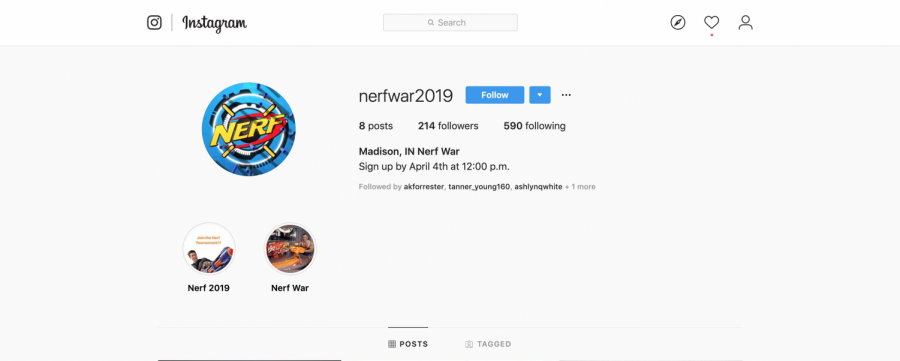 The 2019 Nerf War hosted by the city of Madison youth council is about to commence, so get your (plastic) weapons ready.
Each team must consist of 5 members, no more or no less. It is one dollar per person or five dollars per team. Bring your money to Madison City Hall, or contact the Instagram page at nerfwar2019 further instructions. You may also pay the following youth council members at MCHS:
Clare Wilber (junior)
Elias Hanson (junior)
Addy Hill (senior)
Bergen Cornelius (senior)
Luka Chabukashvili (junior)
The money raised from the Nerf War will go to obtaining a screen and projector to start a drive-in theater for the city of Madison. The winner of the Nerf War will also receive a portion of the money.
The teams must also consist of high school members only.  Madison, Southwestern, Madison Shawe, and Christian Academy High Schools are allowed to participate.
When you and your teammates decide you would like to join, please refer to the Instagram page. Just "slide into their DMs" and state your team members and the team name you would like to have.
The rules for the game as follows:
The player cannot shoot the driver of a car.
The driver cannot shoot anyone else.
No one can shoot from 7:45 a.m. to 3:30 p.m. on all school days (no exceptions).
No one can shoot on or at a bus.
The player cannot shoot anyone during any sport or extracurricular activities, including games, practices, and meetings. This includes a 15 minute window before and after the activity.
Each player has only one (1) "life" per person, per round.
There will be no customizing of Nerf guns or Nerf bullets to make them appear realistic or to cause harm.
If there are any disputes, then the individual who is challenging the call will pay one dollar to the Nerf War judge. The Nerf War Judge will be an adult who is not participating.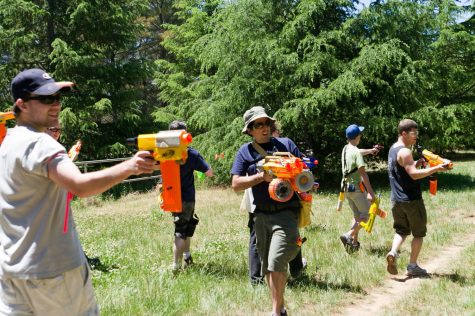 Assemble your teams of five by this Thursday, April 4th by 12:00 p.m.  This is the FINAL deadline. No teams will be accepted after this date.
The first two rounds will be considered practice rounds ensuring that everyone will at least get to play three games before being eliminated. Each round will start on a Friday and end on that following Wednesday. Each team will go against one team every round.
Each team will also have only one (1) life per round. If your team makes it to the next round, your lives reset and once again each person will have only one life until shot. There may be special opportunities during the rounds to regain a life for you or a team member.
All possible teams and players are encouraged to sign up. If there are enough entries, a losers bracket may be implemented.
After eliminating a player, the offensive player must take a picture with the "victim" and send the picture to the Instagram account.
By April 5th, at 12:00 p.m., the Instagram account will release the first round of opponents. On April 5th, at 6:00 p.m., the first round will begin.
The Nerf War is not designed to be harmful. So please be careful and make smart decisions out there, but remember to have fun as well. Let the games begin.